Not even the weakest left behind.
May 05, 2020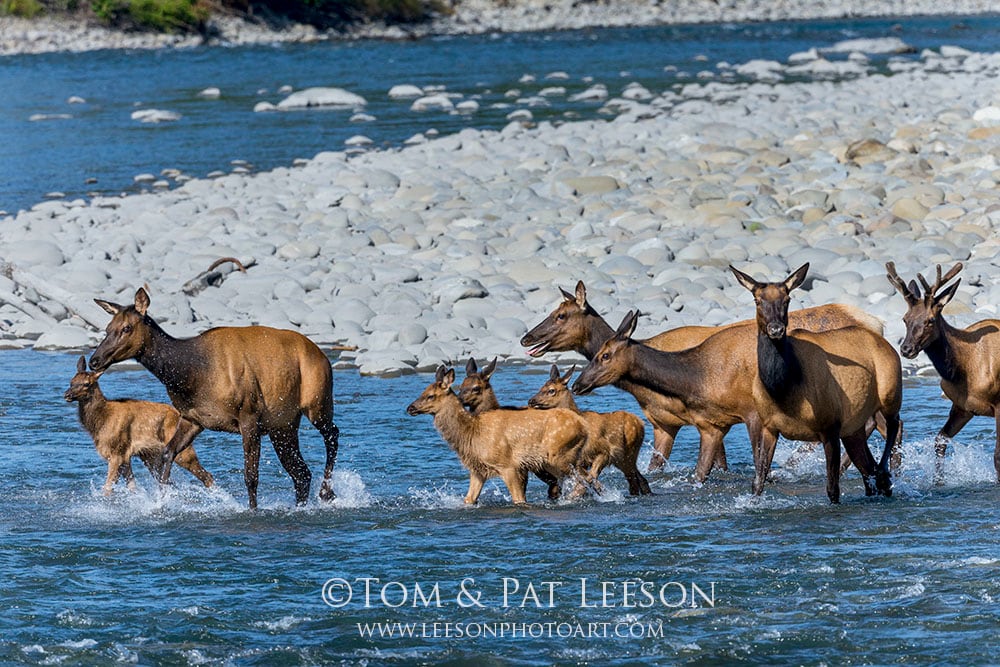 Pat and I have stalked and photographed Roosevelt or Olympic Elk for much of our lives. As a preteen boy I often carried my first 35mm film camera with a 50mm lens on most of my family's fishing and other outdoor adventures where I made attempts at stalking wildlife, often elk, usually with very limited success.
From time to time between other photographic adventures, Pat and I have tried to slip away for a few days and revisit some of the haunts of my youth, hoping our seasoned skills as wildlife stockers and image makers would enable us to document the life cycle of these animals. From these excursions we have come up with a number of quality images, but few showing elk cows with their young calves. In the rainforest here they are challenge worthy of our expertise: dense undergrowth and thick forests limit visibility, hidden sticks and brambles make quiet stealth impossible,These seldom visited creatures tend to be unusually spooky and shy.
This summer we chose to do a 3 to 4 mile hike every morning for a week along the Queets River. No trail, no other people, just a slow wander along river rock and sand bars and through alder/maple tree bottoms. It is an easy walk as long as one by-passes the blowdowns, skirts the huge logjams along the river, stays out of the vine maple/devil club thickets and muddy bogs that are inevitable part of the Olympic Rainforest.
On this particular July morning, I started slightly before sunrise and within the first hundred yards through an old alder grove I spotted two cow elk. I'm sure they had young calves stashed somewhere, but it would only cause fear and stress if I stomped around looking for a hidden calf. I continued walking through the trees looking and watching, but realizing this was unlikely to be a photographic opportunity.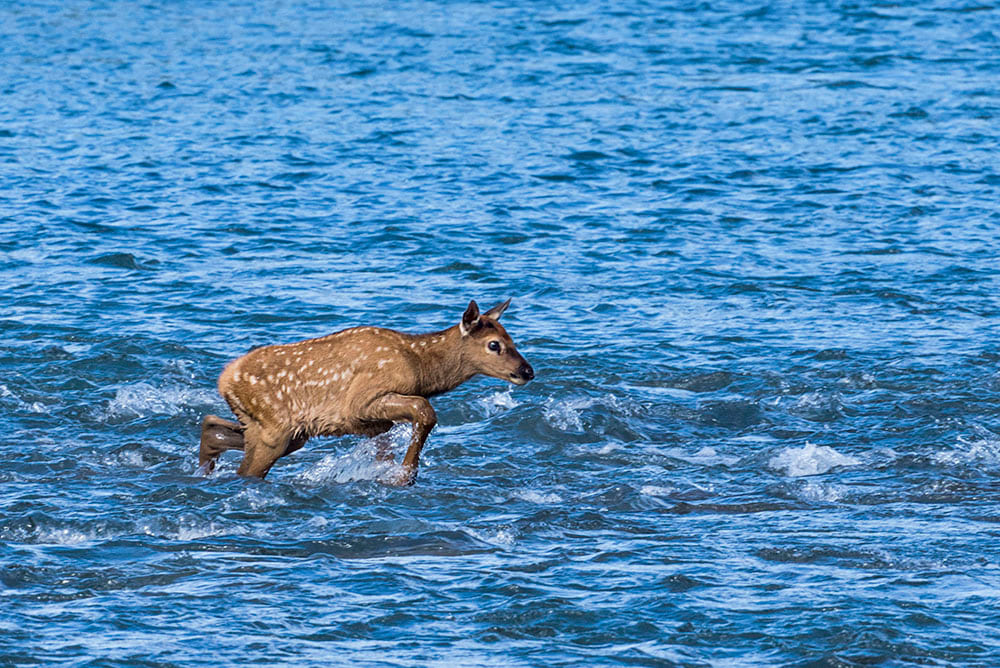 A mile farther down river, after watching a squirming, wiggling mass of black toad tadpoles in a side pond, I spotted elk ears among the growth on the old river bed. After watching for several minutes I was able to spot a dozen animals quietly chewing their cud while resting in the three to four foot growth of new plants colonizing what only a few years before had been the bottom of the Queets River. I stayed hidden behind a small alder tree and could hear the cries and squeals of the herd's calves within the confines of a young alder tree patch off to my right . At this stage of their life--a few weeks to a month old --the herd keeps the calves clustered together while the adult herd members circle the wagons (calves) keeping watch for predators.
Not sure quite what to do, I stood there quietly for about a 1/2 hour. Finally the adult elk started getting up, feeding a little and moving into the grove where their calves rested. The river ran on the far side of this patch of 12 to 20 foot trees. After watching the last elk leave the area , I backtracked upriver a 100 yards or so before moving out towards the bank of the river through the alder thicket. Based on past observations, elk herds living year around along the larger rain forest rivers often cross the river before resting for the day. (I don't know for sure, but I believe this practice is done to thwart predators, particularly cougars, who might be sneaking up on the herd.} As I reached the river bank, several cows were already in mid stream. Over the next several minutes the rest of the herd gingerly stepped in and waded across. Sometimes there would be ten or twelve animals--cows, calves, even a young bull or two--crossing the 40 yards of river, and then maybe only a cow and her calf might be in the water. It was a slow and unhurried crossing which offered several nice photo opportunities.
Once all 30 crossed, they spread out to feed. Just then, a small calf came out of the alder trees on my side and started wading the river. Somehow it had become separated and was now trying to catch up. This calf was small and quite young, but it made steady progress across the current. It successfully passed the 1/2 way mark through the deepest, fastest stretch and just needed to keep on going. But like many children and adults I have observed--shoot, even myself sometimes--the calf seemed to let its fears get the better of it and stopped. Letting out several crying squeals, it turned around and headed back. At the sound of its cry, the whole herd snapped to attention, heads up, all eyes focused on the calf. The last cow who had just crossed with a calf of her own, turned without hesitating to start back across, then another followed, and another until the entire herd retraced the crossing. They didn't leave the vulnerable little calf by itself. I was amazed to see he whole herd shared in the responsibility of providing strength and protection to its newest and most vulnerable member.
In retrospect, it was equally amazing, considering it WAS the rainforest, it was a beautiful blue-sky morning. I felt awed to experience this intimate, once-in-my-lifetime moment, with these shy and majestic creatures.